We've Moved!
For those of you that have been regular visitors to fishnj.com, you know that when we launched back in 1995 we were one of the very first sites dedicated to saltwater fishing in New Jersey. I would like to extend my sincerest thanks and appreciation to all of the visitors that have helped make this site a success. Thank you!!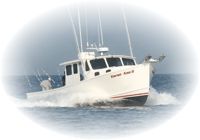 I am now running a brand new 35' custom downeast charter boat out of Little Egg Inlet, NJ, the Karen Ann II. I've had a hard enough time keeping up with all of your requests for updates to this site, and there's no way I could keep up both sites. Therefore, I have created a new web site, www.acfishingcharters.com. There, while featuring the charter boat, you will still find much of the content that was on this site, including an image gallery, how-to articles, fishing reports, and links to a ton of other fishing related information including tides, weather and regulations.
We're local to Long Beach Island and Atlantic City and conveniently located for anglers coming from North / Central / South Jersey, New York, Philadelphia, Pennsylvania and Delaware. Visit our new site at www.karenannii.com today! Thanks again to everyone, and tight lines!
Capt. Adam